It's a slow movie week, but I've been looking forward to seeing How to Train Your Dragon at the cinema. Now whether I'll be watching it in 3D is the million-peso question. Unfortunately, all the reviews are raving about the flying sequences on 3D. My pennies are shaking in my purse, as 3D movies are damn expensive to watch. Hrrr.




How to Train Your Dragon
Starring: (Voice of)Jay Baruchel, Gerard Butler, America Ferrera
Synopsis: Set in the mythical world of burly Vikings and wild dragons, and based on the book by Cressida Cowell, the action comedy tells the story of Hiccup, a Viking teenager who doesn't exactly fit in with his tribe's longstanding tradition of heroic dragon slayers. Hiccup's world is turned upside down when he encounters a dragon that challenges he and his fellow Vikings to see the world from an entirely different point of view. --© Dreamworks



A lot of people are looking forward to this mega-concert by Timbaland this weekend, which also features Justin Timberlake (only an extra???) and Jojo (where had she been hiding lately???).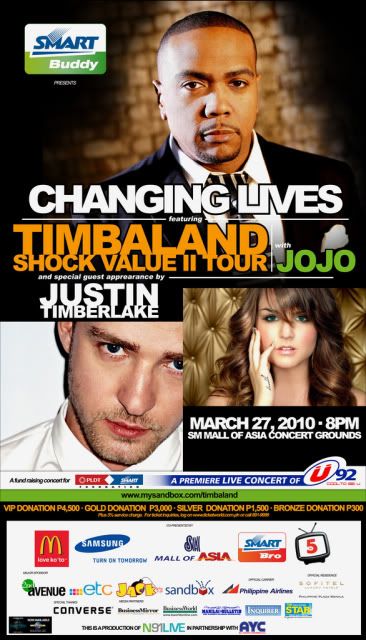 Timbaland Live in Manila
Shock Value II Tour
March 27
8pm
Mall of Asia Concert Grounds

Tickets are from P300 to P4,500