There is nothing good on this week! At the cinemas, you've got Devil -- co-written by M Night Shyamalan, in whom I've lost faith in -- and Legend Of The Guardians: The Owls Of Ga'Hoole. I love owls, I think they're cute, but I don't see myself sitting through a whole movie about them. I could be wrong, but I think I'll just wait for the DVD. Lastly, the Liam Neeson and Christina Ricci film called After.Life just seems lame. I feel sorry for those two. Can't they get anything better these days?


If you're in the mood for live music, though, here's something you might be interested in --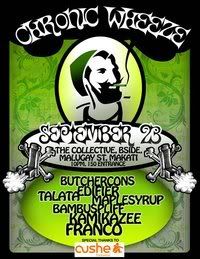 Chronic Wheeze
September 23
Thursday
9pm
B-Side
The Collective
7274 Malugay St
Makati City

Featuring: Butchercorns, Edifier, Talata, Maplesyrup, Bambuspliff, Kamikazee & Franco.

Door charge is P150, which gets you a bottle of beer.