As it's the last day of the year, I couldn't help but look back on all that happened to me. It had been a year of extreme everything -- physical, emotional and social changes. I'm so proud of myself for having the tenacity to drag myself out of the muck and made sure to end 2010 on a high note.
I have learned more in the last few months than the last 5 or 6 years put together. I've discovered that what really held me back from realizing my true potential is just one thing --
Afraid of disappointing my parents. Afraid of making mistakes. Afraid of making a fool of myself. Afraid of changes. Afraid of failure. Afraid of success. Afraid of meeting new people. Afraid of letting people get too close. Afraid of going out of my comfort zone. Afraid of uncertainty.
I stuck to well-lit roads, did not move or just abandoned the things I started because of all those fears. And I have just realised that I was only half-living my life.
For 2011 and for the rest of my life, I pray for

courage.

The courage to follow my heart, to listen to my instincts, to allow myself to make mistakes, to be selfish with compassion and to accept that there is no love in peace.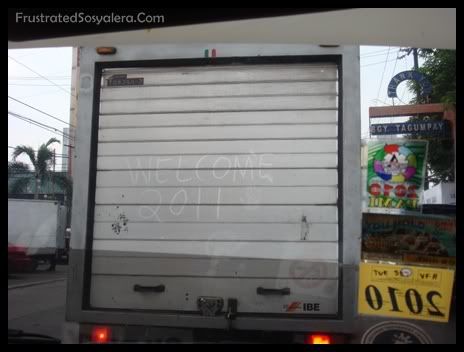 Welcome 2011 sa Barangay Tagumpay!