This isn't a proper review, but it's just something I wanted to share. Several friends and I decided to go to the other end of the city to eat at a certain Mister Kabab one night. I had been there while I was still studying at uni (it's not so long ago, honest! Ok, maybe not).

It wasn't in the same place it used to be in Quezon Avenue, as the restaurant moved to West Avenue. The last time I went so long ago that I can't remember what it used to look like and what I had back then. I was pleasantly surprised at how bright the place looked and how cool it was, even without the air-conditioning.

And the queue!!! It was like several meters long when we got there at about 8pm. Sheesh, I had no idea it had become so popular.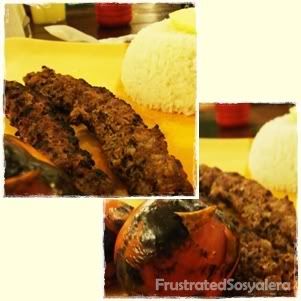 Had this double beef chelo thing -- forgot what the exact name is and how much it cost, but it's definitely just a little over P100 (was that even helpful?!). It was quite good and very rich as you had to slather all that margarine and yogurt over your rice. So fattening!

I will definitely go back and give it a proper review soon.