We all have our lucky days. The day I flew back home to Manila is one of my luckiest ever.

I was nervous checking in at Heathrow Airport in London, as my luggage is overweight (about 12 damn kilos over). I was trying to check in 2 suitcases (incidentally, the smaller one was filled with shoes -- no joke! I'm Filipino and definitely Imeldific to a degree). For my hand luggage, I hid my netbook in my handbag and my SLR was slung over my shoulder.

But instead of asking me to pay over $400 dollars for the extra kilos in my luggage, the ground staff told me that I could just take my shoe-tcase (suitcase, geddit? lollll I crack myself up), to the cabin with me. Excellenttttt! Maybe it was because I was early, or maybe it was because I'm petite and it wouldn't have made a difference weight-wise on the plane, but who the heck cares? As long as they didn't ask me to pay or take stuff out my luggage, I'm perfectly satisfied.

Imagine my surprise as my plane took off for Hong Kong that my seatmate didn't arrive. Yay! More room to stretch in during that gruelling 12-hour flight!

As I was walking out of the plane and towards the terminals in Hong Kong airport, several Chinese ground staff were hollering for people taking the next Manila flight. I then noticed my name printed out on a bulletin board behind them. I became nervous for a moment, because I'd thought I'm going to be questioned by Immigration or something. It's a paranoid thought, I know!

Imagine my shock when one of the ladies handed me a new boarding pass which had BUSINESS CLASS stamped on it.

Oh happy day!!! I'd been upgraded!

So how does flying business class feel like? Let me just show you.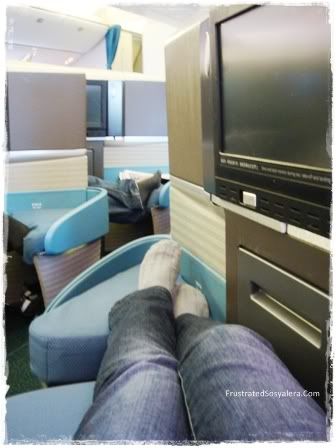 The best thing about it is the privacy and the amazing leg room. *sigh* All you can see are your neighbours' feet, though. Not exactly a pretty sight, but so what, eh?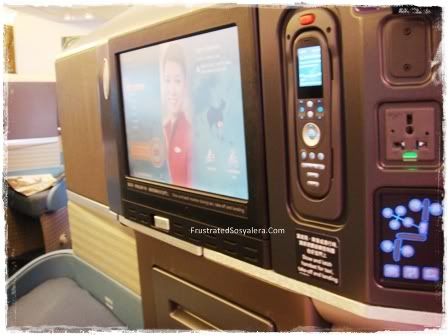 And your seat may be customised in a myriad of ways through buttons on the bottom right corner of the photo. I've never seen such a complicated chair in my life!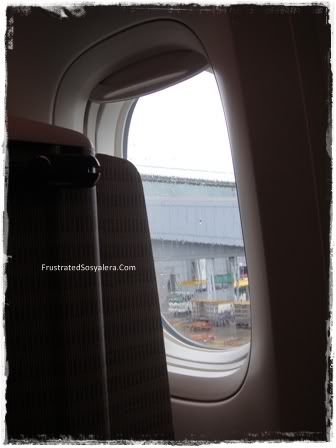 I guess you'd be too comfortable to even bother looking out the window -- because you can't.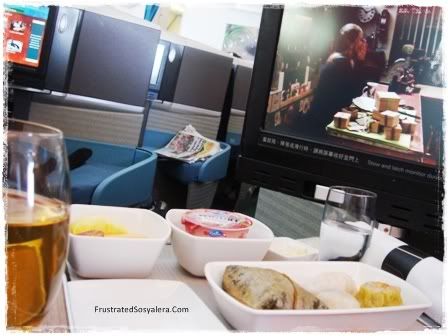 You get proper glasses, napkins and cutlery during mealtimes, unlike the cheap plastic ones you get in economy.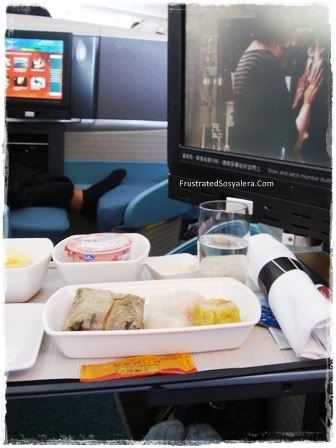 And you can put your feet up the whole flight. Blisssss.

The trouble is, the flight from Hong Kong to Manila only takes less than 2 hours -- which is barely enough time to enjoy the whole experience. Bummer, I know. I can only wish this happens every time I take a long-haul flight!

.
.
.
.