I keep doing this to myself, seriously.

I hate shopping, but when I see something I like and I go home still thinking about it and can't sleep, then I go back for it asap. It's not exactly a practical thing, it's an emotional thing. I always end up suffering buyer's remorse and this is the latest casualty --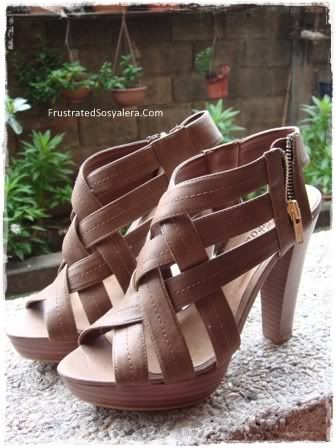 I love, love, LOVE this new pair of shoes, which I bought WEEKS ago and haven't worn yet. Nor is there any prospect of me wearing it any time soon. Why?! Because I don't drive to go anywhere and I do a considerable amount of walking every time I leave my house. So I always end up choosing my other, more comfortable shoes.

So why buy killer platform heels, then?? Because it's purrrrr-ty, that's why! If I want to murder my feet, I'll use it, but I'm still thinking about it. This is why I call myself a Frustrated Sosyalera -- my inner vanity is always battling with my sensible, comfort-loving mind.

.
.
.