One of my ex-colleagues got hitched a few weeks ago after nearly 10 years of being together -- a very long engagement, indeed! It's so nice to finally see them walk down that aisle, as I thought that the engagement would never end. Hahaha! Never mind, they got there in the end.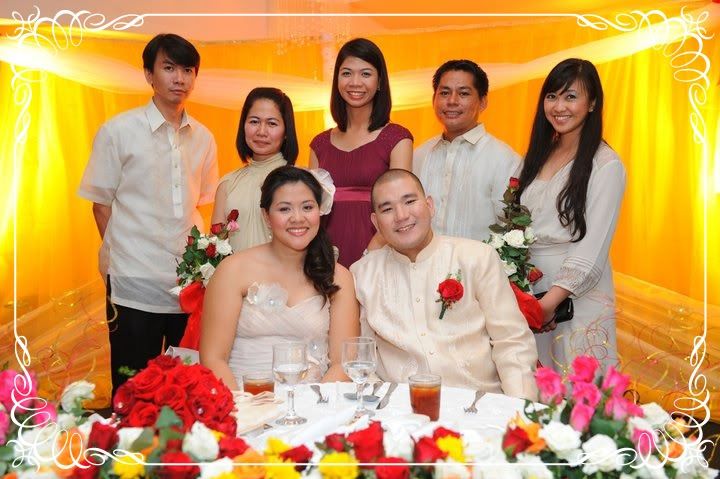 Seeing this photo, I do declare that I'd gained quite a bit of weight while I was in the UK (I'm the one on the far right, in case you're wondering). It's quite hard to refuse rich food, really. *sigh*
It was great to catch up with the old office mates and finding out what everybody's been up to after leaving the company and all that general stuff. People keep taking the mickey out of my lack of lovelife, to which I said I'll be booking my wedding next year and will just hope that a groom turns up for the occasion!
I hailed a taxi on the way home and the driver kept telling me
Ma'am, di kayo mukhang taga-(Manila suburb), mukha kayong taga-Dasmariñas Village!
Naman!! Ako na'ng shushal!! Hahahaha!
I never would've thought that I looked like a resident of a posh village in my outfit, but then again, maybe the damn driver just wanted a bigger tip -- do I really look like an idiot??
At least it seems I really live up to the nickname I gave myself.
.
.
.