Since the comment is still on my tagboard and I just get annoyed each time I see it on my blog, I thought I might as well answer the question.

So this post is to answer the comment posted by somebody called "Cherry Gil." I would've answered the question personally, but Mr/Miss/Mrs Gil forgot to leave a web or email add. For the benefit of everyone, he/she/it was asking if my blog was copying Sosyalera.net.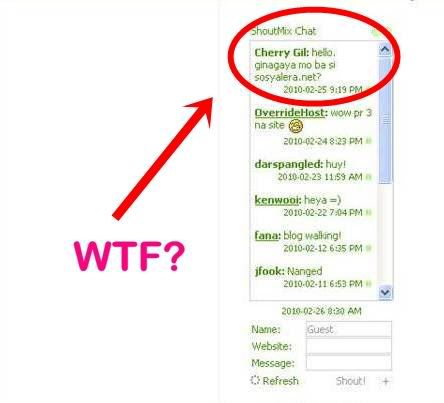 The alias he/she/it had chosen is full of implication. There is a Filipino actress called Cherie Gil (note the spelling difference), who uttered these famous lines in a movie --


You are nothing but a second-rate, trying hard copycat!
I'll be nice and just think he/she/it deliberately spelled the alias like that, instead of thinking that it was misspelled.
I don't believe I should explain myself, really, but I'm bored today. So I thought I'd answer this question, just in case somebody else comes along in the future. Subsequent questions will be directed to this post.
I have made the mistake of creating Frustrated Sosyalera before googling it to check for results.
Obviously, there is one glaring semi-duplication when I did it. But by then, I've already put in too much work on this blog to rename it. So I've decided to stick with the name. The way I see it, there's enough room in the internet for the both of us.
Besides, apart from topic similarities (I mean who doesn't write about fashion, beauty and pop culture nowadays?) our sites could not be any more different. Our styles are miles apart. I will never be a fashion guru like she is and I'm more concerned about making myself look good, before I can even think about giving others advice.
I think

Sosyalera

is good at what she does. But apart from what I've seen in the beginning when I was still concerned if I was looking like a copycat, I hadn't been visiting anymore. I have my own words to publish and I have no time to concern myself with keeping tabs on my own site, let alone hers.
So Cherry Gil, I hope that's enough of an answer for you.