My online buddy, Cleotie, invited me to attend this thing called the Easter Tweetup. Apparently, it's not the first time Pinoy Twitter addicts have decided to get together. I'm so happy I decided to show up, even though I was quite nervous because I had never been to one of these before (I've had so many firsts recently). I kinda look forward to meeting new people now, since I started working from home and my only means of outside communication is through the internet. I know, it's Loserville!

So basically, the Easter Tweetup happened last April 8 at the National Sports Grill.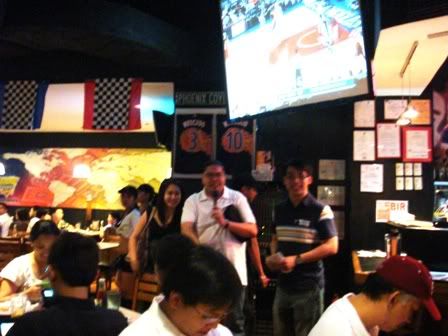 I was quite surprised to see many people showed up! If you've been to NSG before, then just imagine it full, with several people standing up. I think the event was organised by Sherwin.





Some of them left early, though. But then again, I was over an hour late to arrive. Bwehehehe!




From online buddies to actual buddies -- Cleotie and moi. (Note to self: NSG lights are unflattering to my face. Hehe!)





Sandz and Vince. Sandz and Cleotie have known each other for a while and I barged in between them. Hehe! Vince apparently owns this shala (sosyal, sowshall, saucy) streetfood restaurant called Lime, found in Mandaluyong. I plan to visit soon! Just go and have a look if I don't post about it early enough, because I've heard great things about the food there.





Cute photo of Franz (Mr Mohawk) and Joed (pronounced Jo-ed, I believe.)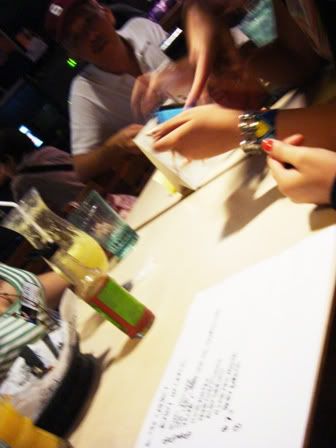 We were asked to answer several questions on a piece of paper, then the team who gets the most right will get free swag from Yahoo! Philippines. We didn't win, darnit! One of the questions was "Name three songs by Justin Bieber." Who the heck is that guy???