It's so weird that I hadn't been to the movies much lately, but that's what happens when you've got more important things to do.

With all the sales over the past weekend, I had been meaning to buy some new clothes. I had the money to spend, but for some reason the stuff I wanted didn't suit me. It was not meant to be! The irony of shopping is -- When you've got funds, there's nothing good. But if you're dirt-poor, there is sooooooooo many things you want!

Yeah, yeah. I know. It's pathetic of me to be so hooked up on material stuff, but a girls gotta shop.

As for movies opening this week, there's (500) Days of Summer, Halloween II, Battle for Terra, Carriers and The Hurt Locker. I've never heard of any of them. I'm pretty sure you've heard of this one, though --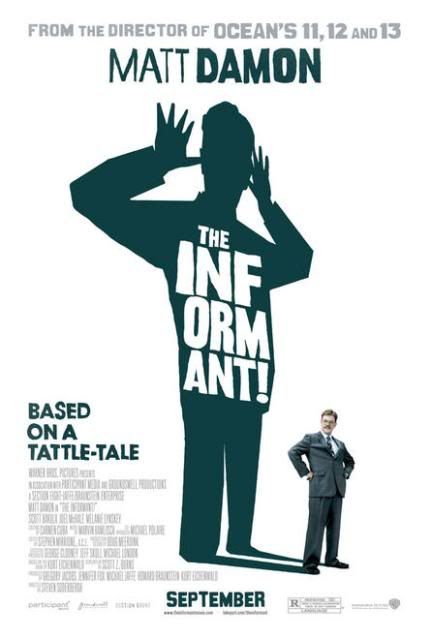 The Informant!
Starring: Matt Damon, Scott Bakula
Synopsis: What was Mark Whitacre thinking? A rising star at agri-industry giant Archer Daniels Midland (ADM), Whitacre (Matt Damon) suddenly turns whistleblower. Even as he exposes his company's multi-national price-fixing conspiracy to the FBI, Whitacre envisions himself being hailed as a hero of the common man and handed a promotion. But before all that can happen, the FBI needs evidence, so Whitacre eagerly agrees to wear a wire and carry a hidden tape recorder in his briefcase, imagining himself as a kind of de facto secret agent.

Unfortunately for the FBI, their lead witness hasn't been quite so forthcoming about helping himself to the corporate coffers. Whitacre's ever-changing account frustrates the agents (Scott Bakula and Joel McHale) and threatens the case against ADM as it becomes almost impossible to decipher what is real and what is the product of Whitacre's active imagination.




And there are also a couple of concerts this week.

I seem to remember posting something about the Akon gig a few months back, and for pete's sake, here he is again! It seems like he likes to cancel at the last minute, so I hope he pushes through this time or he else he should sing "put the blame on me" for the rest of the year. Bah!







Akon Live in Manila
23 Oct
Friday
8pm
Araneta Coliseum

Tickets are between Php550 to Php5,500 (via Ticketnet)









Basia Live in Manila
21 Oct
Wed
8:30pm
Araneta Coliseum

Call Ticketnet at 911 5555 for prices.