Rumour has it that the reason why Chris Brown assaulted Rihanna, is because of herpes. Rihanna was apparently seeing another guy and got infected with an STD, therefore passing it on to Chris Brown.

This 'other man' is supposedly Jay-Z.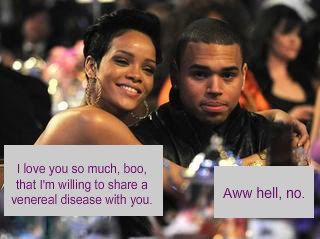 Rihanna & Chris during happier times


If this is true, then does Beyonce also have herpes?

Other reports say that the rumour is false and only came about because Rihanna was recently photographed with a cold sore around her mouth.


Therefore, the story is fiction unless proven otherwise. However, even if this is true, that's still not reason enough for a man to beat a woman up.