Every Monday, Frustrated Sosyalera will try to bring you the best of the week to come -- called FS Picks of the Week. If I get the movie schedules wrong, I'm sorry. Sometimes the showing times aren't final 'til Wednesday, so tough. =P

This week's picks include The Watchmen, The Eraserheads' Final Set Concert and Warehouse 135's Closing Party.





~oOo~ FILMS ~oOo~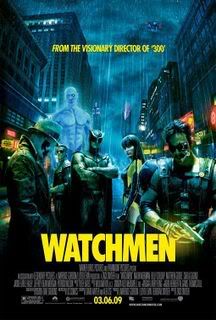 The Watchmen
Starring
Malin Akerman
Billy Crudup
Matthew Goode
Carla Gugino
Director
Zack Snyder (of 300)
Plot
A complex, multi-layered mystery adventure, Watchmen is set in an alternate 1985 America in which costumed superheroes are part of the fabric of everyday society, and the Doomsday Clock -- which charts the USA's tension with the Soviet Union -- moves closer to midnight.

When one of his former colleagues is murdered, the outlawed but no less determined masked vigilante Rorschach sets out to uncover a plot to kill and discredit all past and present superheroes. As he reconnects with his former crime-fighting legion -- a disbanded group of retired superheroes, only one of whom has true powers -- Rorschach glimpses a wide-ranging and disturbing conspiracy with links to their shared past and catastrophic consequences for the future.

Their mission is to watch over humanity...but who is watching the Watchmen? --© Warner Bros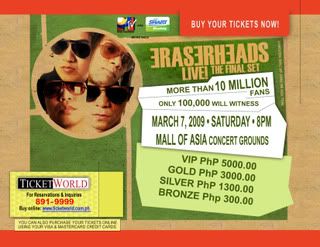 Eraserheads: The Final Set






7 March 2009




Saturday, 8pm




Mall of Asia Concert Grounds






Ticket prices


Php 5,000 VIP
Php 3,000 Gold
Php 1,300 Silver
Php 300 Bronze

Tickets are available through Ticketworld (891-9999).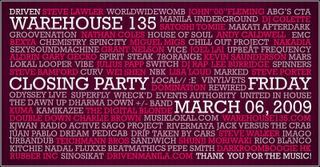 Warehouse 135 Closing Party


Warehouse 135 will be temporarily closing for renovations and decided to give a party just before they go!




6 March




Friday




Warehouse 135




Yakal Street




Makati City




Entrance fee is Php 200 (ladies enter for free all night!)
50% off on all drinks until supplies last