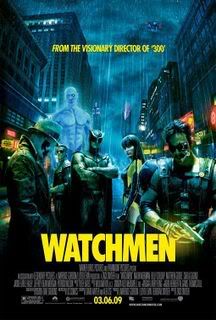 The Watchmen


Starring: Malin Akerman, Billy Crudup, Matthew Goode, Carla Gugino
Director: Zack Snyder (of 300)



My take on it

As the opening sequence rolled on, I thought The Watchmen was going to be promising. I loved how artistic it looked and how the scenes contrasted with its soothing music. The first action scene between The Comedian, one of the Watchmen, and his attacker was brilliant. I thought it would set the tone for the rest of the movie.

Sadly, it didn't.

In my opinion, the plot premise was good, but a little weak. The actors weren't mesmerising at all, and couldn't hold my attention for very long (except for the guy who played Rorschach). Carla Gugino, who played Silk Spectre, was more watchable in the few minutes that she appeared than all the rest of the lead cast combined.

I understand that The Watchmen were only police officers in costumes and should not be classified as superheroes (which might explain why they look so plain), but I wonder how the director will explain the broken walls and counter slabs in the fight scenes? For ordinary people, they sure are awfully strong.

I hadn't read the comic, but I don't think the movie convinced me to read it. A friend said that the director had been faithful to the story (except for a little alteration in the ending, apparently) but if that's all there is to it, then the hell with it.

The makers of The Watchmen have done what I thought was impossible – to make a (super)hero movie so gawddamn boring.