I have been so good with my diet, but my weight had not gone down past the 8lbs mark...

... and I've had a McDonalds meal the other night (the spaghetti with chicken nuggets one) and boy, did I feel guilty and happy at the same time. Life is always a mix of emotions.

Depriving myself of comfort foods actually drives me crazy because I start to crave the darndest things. I've gotten tired of having fast food all the time, so I've decided to grocery shop for canned goods. But as I've gotten tired of those as well, it drove me to do something I nearly never do...


...to cook actual meals.

It's the end of life as I knew it!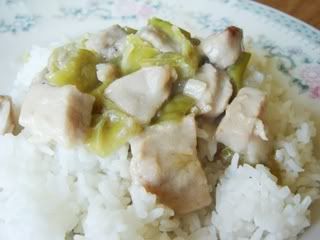 Behold my Bicol Express made with menudo-cut pork!


I've cooked before sure, but only because I've got guests coming and I'm too embarassed to make them eat pizza again and again.


This is the beginning of Frustrated Sosyalera's cooking career. Hehe!