Oh man, I am soooooo terribly busy and I don't think it will change much for another couple of weeks. Jeez.

And just when you guys thought that the Corregidor tour posts have finished -- think again! We've just had lunch during the last post, remember??? This is the beginning of the afternoon tour, so have a crack at it.

Frustrated Sosyalera has somewhat made it her personal mission to show the world how awesome Corregidor Island is, and that's why this series of posts on it seem never ending! She just went on a day tour, but ended up taking hundreds of photos to document it and it would be a waste not to share with everyone.




Creepy photos after the jump!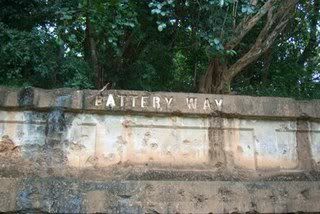 The next stop after Middleside Barracks was

Battery Way

.







I'm inserting this photo because I'm so proud of my panoramic shot. Vanity at it's finest.






There isn't much to say about it really, except for the fact that they got damn creepy rooms in there. See that door? They've got bullet holes all over them. Geez.






What'd I tell yah?






Creepy, creepy, creepy. I can't even get through to the other end. Only til the point where the light still hits.






They've also got damn big guns.






You will also find guys poking metal detectors all over the island looking for old coins like this. They're worth quite a bit, I've heard.






Never ask your boyfriend to take your photo while smoking. The boyfriend claims this is intentional, however, I'm not sure what he is trying to achieve here. Lame pose from me as well. Some model I turned out to be. Pfttt.




If you want to know more about the tour I've had, just go to the

Travel

category of this site.







Next stop: Battery Hearn