It's been cold, wet and dark lately. Apparently, we've got 2 low-pressure areas waiting to wreak havoc in the country, so it's no joke. It's miserable -- heck, I'M miserable!

So what did I do? I wore a yellow top. I swear, it works. It makes you feel all summery and bright and all the Sesame Street shit you can think of.

Unfortunately, it doesn't help me not think about a large mouth ulcer that has taken resident in my inner right cheek. It catches when I talk and when I eat, so I can't gossip or enjoy my food (which is a tragedy in itself). I've bought gallons of mouthwash, hoping it will go away tomorrow.

I feel like Vito Corleone, with wads of cottonballs wedged into my right cheek -- only it hurts!



Hayl meyk yu an offah you kent reh-fushe.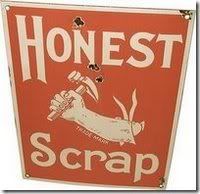 Anyway, there's this (new) meme from
Jessica
, right? She has given me the
Honest Scrap
award, sort of forcing me to tell y'all what my

10 deepest darkest secrets are.
1. I still love watching anime. I think it's the fountain of youth (or permanent dorkiness, you decide).
2. I'm a sucker for anything cute, short and round with eyes being 2/3 the size of its head. Spiders and roaches, in whatever form, are excluded.
3. I absolutely abhor scary movies (which some of you probably know already).
4. I don't get manicures. Maybe when I turn 40 and my nails become disgusting even if they're clean, I'll change my mind.
5. I have AT LEAST four pairs of shoes that I hadn't worn since I bought them.
6. My budgeting is so terrible that the bf spent nearly 2 hours fixing it for me to accomodate all my existing debt and still leave me with Php 600 savings a month (maybe I should sell them shoes).
7. 95% of the time, I order a tall Caramel Macchiato from Starbucks -- hot or iced, depending on the weather.
8. I've been mobile-less for nearly 2 days now. Gotta pick it up when I get home tonight.
9. I keep a tube of lipstick in my office penholder -- for emergencies.
10. I park at least 2 pairs of black shoes underneath my office desk.
Wtf, it's nearly all about shoes!
I would like nosey-in on these people's secrets as well (should be 10, but only got 5):
Quintessential Babble
Family, Health & Home
BUM-spot
We Heart Freebies
Aterhea