So where was the storm the news was warning us about the other day? These news people really do know how to hype things up when it isn't necessary. Tsk.

I'm not looking forward to it, if that's what you're thinking. I'm just saying that sometimes the news is so full of exagerrations.


.


.


.


I seem to be running on autopilot recently. Maybe the trying to keep to a low budget is driving me up the wall, but I think I'm getting bored of my new routine... because it's too damn repetitive! I just show up for work, do what I gotta do for the whole shift, then pack up and leave. Not much room for thinking, let alone room for imagination.

So it's kind of funny that I feel I should do this meme today from Vlad of Stalking Minds. I had been bestowed the honor of being a --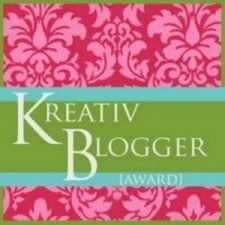 Yup, that's right! Someone actually thinks I'm creative and I am most certainly happy about it!

*throws confetti*
To accept it, I have to mention 7 Things that I love as well:
1. I love coffee.

If drinking too much wasn't bad, I would've been sipping away all day -- but it is, so I'm won't be. Tsk.
2. I love sleeping in.

Because I find it difficult falling asleep in the first place, so when I do get 'round to getting shut-eye, I hate waking up too early.
3. I love the internet.

Because I'm a dick... I'm addicted to it. (Bah, I know that was corny, ok???)
4. I love cute things.

Especially chubby puppies.
5. I love travelling.

Because you only live once.
6. I love going to the mall on Wednesday afternoons

. Because being in a mall on a weekday feels like freedom from work -- well, to me, anyway.
7. I love having Twix with my coffee.

It's the breakfast of champions. Hehe!
So!
Any one of you guys care to join in the fun (because I find you creative too)?
Jerine
Jessica
BearBear
Vicks Inhaling Man
Naoko's Cooking