I've gotten a very interesting meme sometime ago, and I've decided to play along. I don't like memes very much, unless it shows something very interesting about the person writing it.

And this one is all about what's inside your bag.


Recently, I've been using this cream one. My sisters gave it to me for my birthday and I've been using it a lot lately.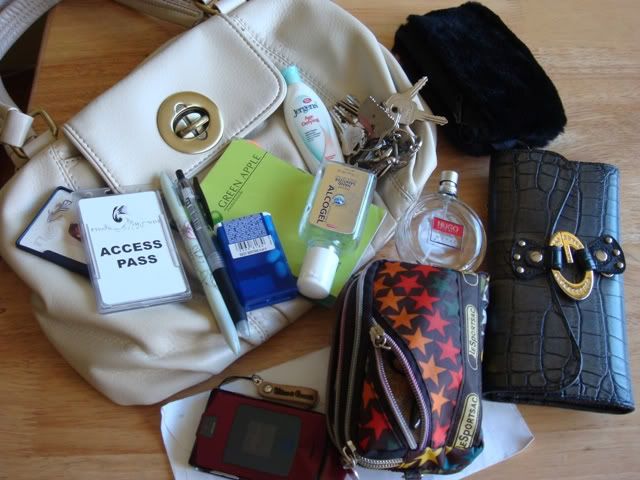 As you can see, I've got loads of stuff in it on a daily basis:



wallet

mobile

makeup kits (2)

perfume

alco-gel

notebook

pen

eyebrow pencil

lotion

keys

2 ID's

Tic-tacs

an empty envelope (don't ask)

And although they're not in the photo, I also always have my iPod Touch and camera all the time (well, no the iPod I leave at home sometimes).
W

ondering

why I've got two make-up pouches? One's for the essentials and the other is for leaving at home (when I feel like it).
The Essentials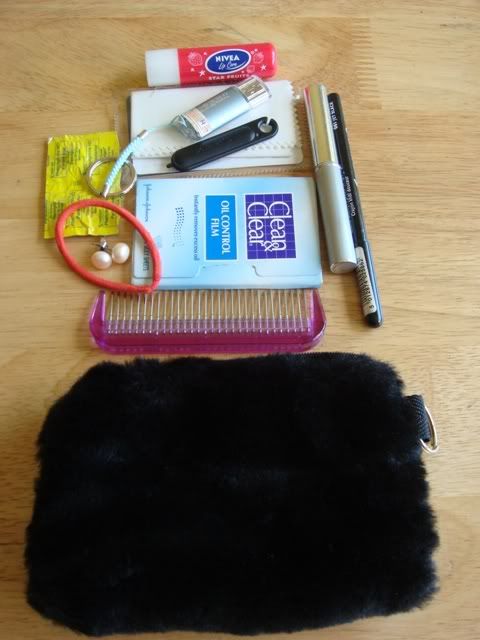 oil control film

cleaning cloth for eyeglasses

earring (in case I leave the house without a pair -- for emergencies)

hair band

lip balm

lipstick

eyeliner (I don't know why that's in there, I've never used it!)

camera stylus

comb

cold tablets (to take when I suddenly get the sniffles)
The Can-Leave-At-Home Stuff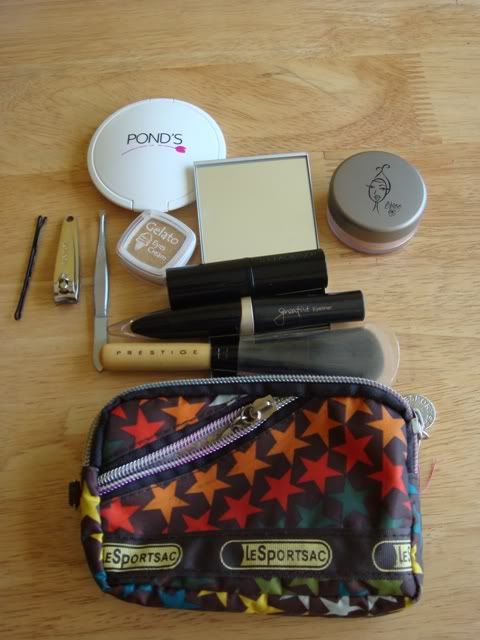 They are ok to leave at home when I don't think I need to retouch for the rest of the day:
concealer

face powder

liquid eyeliner

blush brush

mineral powder blush

compact mirror (my powder doesn't have one)

eyeshadow

bobby pin

nail clipper (for when I compulsively want to clip my nails. haha!)

tweezer
And there you have it -- the contents of my black hole of a bag. No wonder my back aches sometimes, there just too much stuff in it!
I would very much like to know what's in yours, so please please let me know if any of you have done it, yeah?