Great ass-kickin' by Manny Pacquiao yesterday, huh? Record breaker! Cotto's face was all swollen up, you'd think he was a puffer fish. Tsk. I'm not a big fan of Pacquiao's showbiz/recording/political ambitions, though. That goes for his mother too. What a turn-off. Pfttt.




It's funny how there's only one new movies this week --





The Twilight Saga: New Moon
Starring: Kristen Stewart, Robert Pattinson, Taylor Lautner, Dakota Fanning
Synopsis: The supernatural tale of starcrossed lovers continues as the Cullen family flees Forks in order to protect Bella (Kristen Stewart), and the heartbroken high-school senior discovers that vampires aren't the only creatures in town. Realizing that Bella will never be safe as long as he's around, Edward (Robert Pattinson) makes the difficult decision to leave his beloved behind shortly after her 18th birthday. Reeling from her loss, Bella embraces self-destruction after being comforted by Edward's image during a moment of mortal peril. But as heavy-hearted as Bella may be, her old friend Jacob (Taylor Lautner) distracts her from her sorrows by helping her renovate a weather-beaten motorbike. When Bella encounters a former adversary with a sizable grudge, she's rescued from harm at the last second by pack of enormous, ferocious wolves. Subsequently delving into the history of the Quileutes, Bella discovers the secrets of Jacob's tribe while looking forward to a reunion with Edward that may have deadly consequences.


And speaking of Manny Pacquiao and Twilight, fans who like them both will be thrilled to see this:





WTF. I don't think any amount of photoshop skills will help Pacquiao get that seductive vampire aura. This photo gave me the chills. Creepiness!



Fireworks fanatics, however, will be happy to know the World Pyro Olympics are back in town.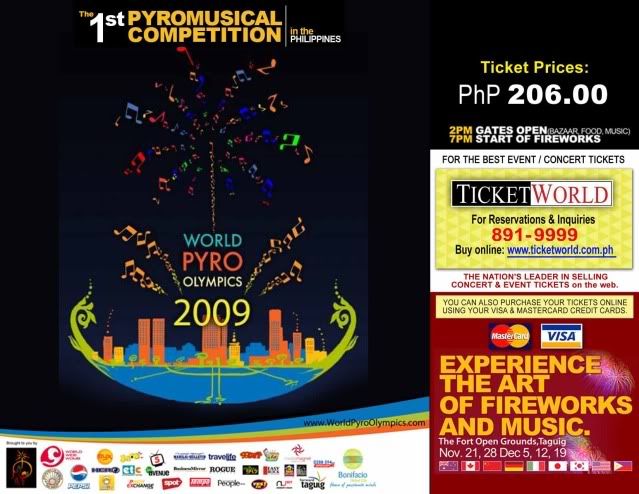 World Pyro Olympics 2009
Every Saturday starting November 21
The Fort Open Grounds
Taguig

Tickets are at P206 (Dunno why the P6).