I'm on a late streak.

Last Saturday, I had been late to a wedding... and I'm one of the bridesmaids! I know, it's shameful. I arrived in the middle of the ceremony, wtf.

Then I was late for my sister's birthday lunch the next day, because I had a hangover. She called to wake me up... because it was already noon!

Then I had been consistently late with my work deadlines.

Now my Picks of the Week post is also late! It's now wednesday, gawddamnit! It's embarassing! I should just name it FS Picks of the Latter Part of the Week, because I missed a couple of days already! Sheesh. I'm very disappointed with myself.






Inglorious Basterds
Starring: Brad Pitt, Christoph Waltz, Michael Fassbender, Eli Roth
Synopsis: nglourious Basterds begins in German-occupied France, where Shosanna Dreyfus (Mélanie Laurent) witnesses the execution of her family at the hand of Nazi Colonel Hans Landa (Christoph Waltz). Shosanna narrowly escapes and flees to Paris, where she forges a new identity as the owner and operator of a cinema.

Elsewhere in Europe, Lieutenant Aldo Raine (Brad Pitt) organizes a group of Jewish soldiers to engage in targeted acts of retribution. Known to their enemy as "The Basterds," Raine's squad joins German actress and undercover agent Bridget Von Hammersmark (Diane Kruger) on a mission to take down the leaders of The Third Reich. Fates converge under a cinema marquee, where Shosanna is poised to carry out a revenge plan of her own... --© Weinstein Co. and Universal Pictures




Another one for the cheesy people!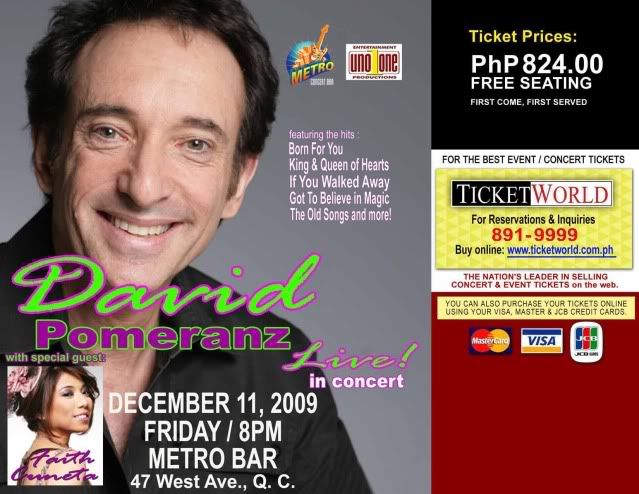 David Pomeranz Live
Dec 11
8pm
Metro Bar
47 West Ave
Quezon City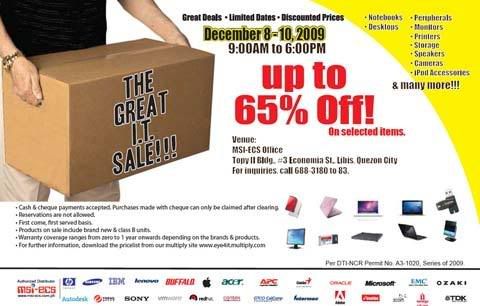 MSI IT Sale
Dec 8-10
9am to 6pm
MSI-ECS Office
Topy II Bldg
3 Economia St
Libis
Quezon City