My sisters and I have been trying to book flights through Philippine Airlines (PAL) because their Real Deal promo was so tempting -- we were going to save at least 50% of the usual flight to Los Angeles, which would be foolish of us to pass up. Unfortunately, the seat sale only ran on April 27-28. ONLY TWO DAYS.

So, what happened then?

The site went down... ALL FRIGGIN' DAY... AND NIGHT.

1st sister and I managed to get booked, but our youngest will be left behind! We were trying to get her into the same flight as us (the first credit card went over the limit), but we eventually failed. Now, how in the world did that happen?


You go visit the PAL website to book a flight online, and you get this stupid announcement: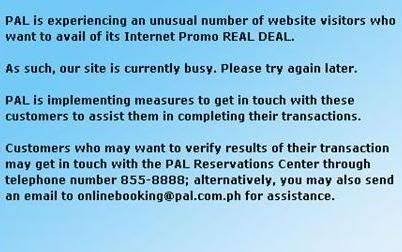 PAL is experiencing an unusual number of website visitors who want to avail of its internet promo Real Deal.

Yeah, you try again later. But that thing just keeps popping up.


Then, when you eventually reach the part where you can book your flight, you end up staring at this thing for a good 10 minutes:






Yup. It processes the details FOREVER.



If you're lucky enough, you just might see this error:





Add Passenger Details Generic Error.



I tried to call the PAL hotline, but you get a busy tone all the time. When I eventually managed to get through, I was on hold for virtually 90++ minutes or AN HOUR AND A HALF. Even then, the booking agent couldn't book youngest sister into the flight without us having to pay the normal price. Sheesh. How stupid is that?

Philippine Airlines, before you make a promo like that again PLEASE get your shit together. It's not funny. It's like an online raffle! Pfttt.