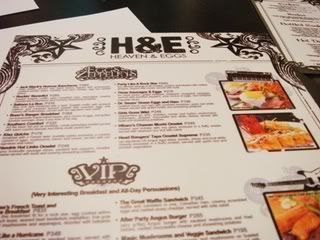 My friends and I celebrated Chinese New Year on a whim last Monday and had dinner at Heaven & Eggs Glorietta.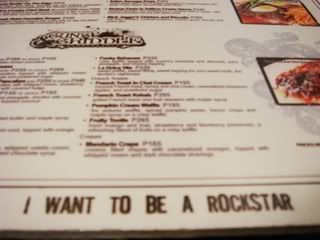 Last time I was there, the chairs were on swings and the waiters had halos and wings. They've done some rebranding of sorts and now they're kind of gone towards the rockstar theme. I don't know where the eggs fitted there, but they've considerably shortened their menu.







Tren & Bajoy modelling their menus. Hee!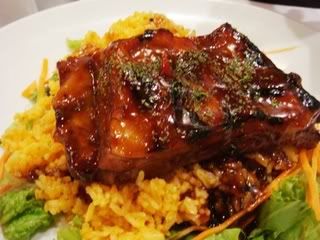 Manila Spareribs was one of the old favourites here, will make it a point to try it next time.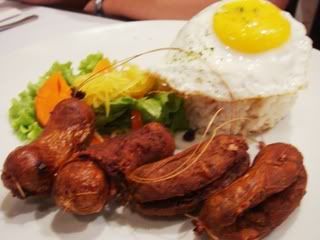 Lovin Lucban Longganista (I think, my memory's a bit fuzzy).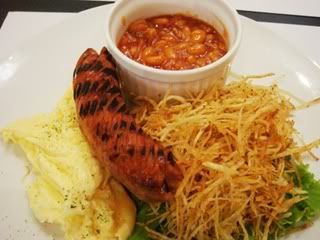 Bono's Banger Breakfast -- which is excellent except for the shoestring(?) potatoes. It was very difficult to eat and not very satisfying. I would've been happy with simple mash. Pfttt.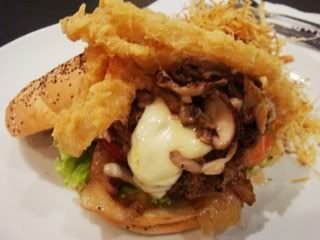 Angus burger (again, can't remember the exact name). The bf wasn't very happy with it, apparently a bland burger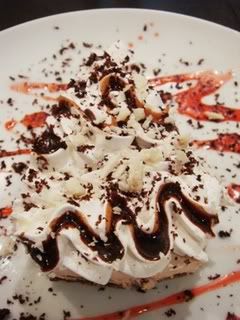 Toblerone Mousse Cake. It was nice, but we were looking for that non-existent Toblerone taste.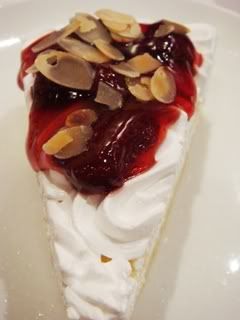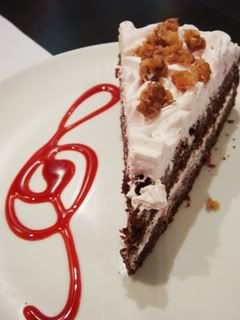 Red Velvet & Triple Layer of something. The story here is that the Red Velvet was so dry that we had it exchanged for something else. And that something else was absolutely the same, if not worse. So therefore, the dessert part of the dinner was a total flop. They should throw away old cakes!!!



Wallet damage
About Php 250 to Php 300 for each person.


The verdict
Overall, the food was good but there's always that little something to make it less favourable (i.e. the potatoes and the cakes). Plus, the dish names were so complicated!

So I don't know if the theme overhaul was worth it. I was quite happy the way they were back in the day. Tsk.