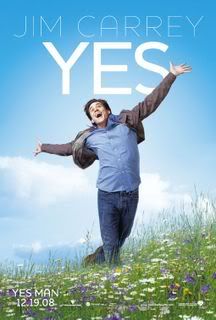 Yes Man


Starring
Jim Carrey
Zooey Deschanel


Plot
A man who has made a habit of saying "no" to everything attends a self-help seminar, and gets convinced that he's been missing out on life. He soon challenges himself to say "yes" to everything, taking chances he would never have taken before.



Let's get down and dirty!



Overall Production
As a standard rom-com (romantic comedy), there's no special effects to speak of apart from a few stunts and Carrey's facial gymnastics. Everything in this aspect is ok, but nothing really stood out.


Acting
Carrey's slapstick style aside, he's actually a good actor (i.e. Eternal Sunshine of the Spotless Mind). He definitely delivered the goods here and made the most with what he's given to work with. Ergo.... absolutely HILARIOUS!

Deschanel is...err... cute. *blushes and trying to control lesbian tendencies*

But she needs to work on acting a bit more.


The verdict
It's a really funny film, it really is. There didn't seem to be any boring moments, surprisingly. Unfortunately, the plot is just so thin and predictable.

I mean if you actually say "yes" to anything and everything that's offered to you, what will happen? Whatever your answer is, that's the whole movie.