The bf showed me the link for the 15 Surprisingly Super Smart Celebrities and wondered about my own IQ score.

So I went to this site to take a free test. I know these online tests can be quite unreliable, but I've only ever done it to compare my score with them celebs.


I got an IQ of 126, which according to the chart below is under High Intelligence.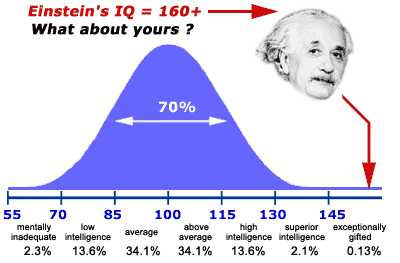 That's not enough!

Porn star Asia Carrera is smarter than me at 156!
































Heck, Dolph Lundgren of Showdown in Little Tokyo, who looks like a dumb brute, beat me at 160!


160!!! That's Einstein, for cryin out loud!


Man, 160... I still can't believe that I can't beat Dolph Lundgren.
























However, I wouldn't even dream of beating James Woods' score of 180, wtf. To register that, he must be an alien.... he damn sure looks like one.