FILMS OPENING THIS WEEK

Love Me Again (Land Down Under)
Starring
Piolo Pascual
Angel Locsin
If you hadn't seen the trailer (which means you are either a hermit, don't own a tv or not in the Phili), then this is your chance.
Plot
This is the story of a woman who goes to the Land Down Under for the sake of her family and her dreams, and the man who would go to the ends of the earth to follow her. After working for several years in Manila, Migo (Piolo Pascual) returns to Bukidnon, to its magnificent rolling hills and lush pasture lands, to reclaim the ranch that his family had lost after his father's death. During the famous Kaamulan festival, Migo sees his first love, Arah (Angel Locsin), who also happens to be the beautiful and fearless rodeo queen of Bukidnon. He falls in love with her all over again and resolves to win back her heart as well.





I have an opinion even before they show it in the cinemas


This is Star Cinema's new OFW travelogue (following Milan, Dubai and that Greek island movie with KC Concepcion & Richard Guttierrez -- yeah, I forgot the title).
This time it's in Australia, mates!
It makes me wonder though, that these films are like the

Discovery Travel & Living

channel -- Pinoy style. We've covered the US a gazillion times already, Canada, London, Italy, Greece, Australia & the Middle East, so does anybody agree with me that Star Cinema should film in Africa or Latin America, maybe even Antartica? Just so we have all the continents covered. Hehe!
Sample titles could be:
My Only Amazona

(Latin American Love Story)
Safari You, Safari Me

(Love Blooms in the African Bush)
Honey, Don't be Cold to Me

(Let's Warm Up Antartica)
.
.
.
Have I been talking out of my ass again? I'm soooooo sorry. Hahaha
~oOo~oOo~oOo~oOo~oOo~oOo~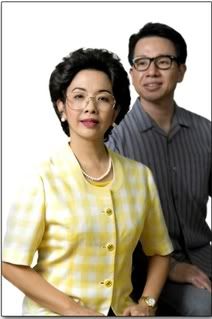 Totally trying to beat out the up-and-coming Imelda Marcos musical, the Meralco Theater will be staging

Cory, The Musical

this week. The first woman president of the Philippine Republic will be played by Isay Alvarez.
Cory, The Musical
16-17 January
Meralco Theater
Pasig City
Tickets at Php 721, Php 515 & Php 300. For inquiries, please call 891-9999.