It had been a long day, 7th of May.

I was getting ready for bed and when to the toilet for a quick shower.

But before that quick shower, I had decided that I wanted to clean the bathroom first. I scrubbed the floors, splashed it with water, and when I was done, I went ahead towards the bathtub.

And whaddya know, I slipped AGAIN!

But this time, I fell on top of the side of the bathtub – my body was half in and half out. Did it hurt? Let's put it this way: if I had balls, I don't think I would have been able to walk for days.

Man, that fall was brutal. My upper left chest and left thigh hit the bathtub hard. Wonder if I can get breast cancer because of that? Sorry, stupid question.

What have I got to show for it? I have TWO bruises, as big as my hand, on my left thigh. Looks like I'll be wearing trousers for the next two weeks. If my folks at home saw these, they'd think my hulk of a boyfriend mauled me during a nonexistent lovers' spat. Can't risk that.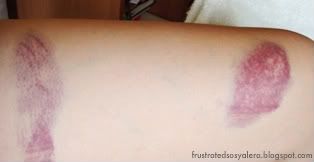 Does anybody know how I can get rid of these quickly?
My legs aren't pretty, but I don't want to make them look like I've been mauled by a wild beast. Pfttt.
Now, if only I wasn't gonna go to Boracay on Friday. Isn't that just
swell
? Maybe I'll just get myself some scuba gear instead of a swim suit and pretend that I'm gonna go diving and not just laze around the shore for 3 days.
"Emong," ah-heyt-choooooooo! *points fist to the sky*