I will mark this day, 7th of May, as the worst, no, second worst day of my entire life. Why only second? Because the worst one is the day I got mugged in a taxi – nothing beats that shit.

So I start today walking on the sidewalk, towards the steps that lead to the office building entrance. It was raining pretty hard. The news declared typhoon "Emong" had arrived.

I had been carrying loads of stuff – my large bag, a paper bag and my laptop. Got both my hands full.

So there I was, pre-occupied with my bags, walking towards the steps when I slipped. Yeah. Slipped on the pavement. I mean, gawdamnit, slipped on the pavement with my knees and my hands on the floor kind of slipped.

I saw my bags hit the floor to my right. But in a flash, I was up again and made a beeline for the door (Miriam Quiambao, isdatchu?). Loads of people saw me, and I didn't want to stick around to look at their faces. This wasn't Miss Universe, where I can win first runner-up if I slip and get up with a smile. Besides, I was beet red with embarrassment. When the doors of the elevator closed in front of me, I saw the shin of my trousers dark with water and my knees were hurt. I tried to hide my knees with the paper bag.

Well actually, I think my ego hurt more than my knees.

I laughed about it when I got into the office. Thank goodness I had another pair of trousers to change into. It would've been funny in hindsight,right?

Little did I know that there was more to come when night fell.

I had to go to the mall after work to get some drugs. Herbal. Oops, that didn't come out right. I meant homeopathic. Wait, that sounds like homo-empathic (even if I am). Ah, whatever. I went to get some sleeping pills.

I prepared to walk home after that, and it was still chucking it out with rain outside. I mean buckets. No biggie, I had my umbrella and the flat was just a block away. My jeans got wet (there goes another pair of trousers) and I swear, it got so heavy that you'd think they were made of lead.

I was so relieved when I arrived at the building and into the elevator, that I was damn well shocked to find that the bottom part of my paper bag had given way. The stuff inside? They were gone.

Panic!

I dropped my leftover things in my room and went straight back down to retrace my steps and hopefully still find my "lost stuff" and praying I had not dropped them near the stinky trash bags that I passed by on the way home.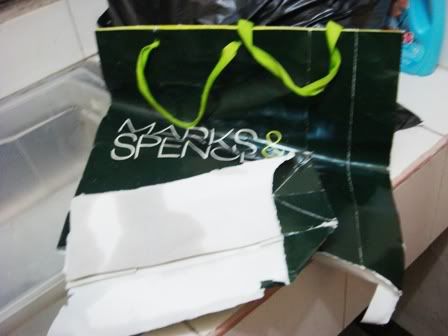 The culprit
(Side note: Never trust paper bags! Especially when it's raining! THEY WILL LET YOU DOWN. I shoulda gone green long ago and used those canvas shopping bags instead.)
As I was about to exit the lobby, the doorman called out to me and pointed to the counter.
My "lost stuff" was sitting there, nice and dry.
Guess I was lucky after all!
But it was only 9pm. The night was still young.
To be continued… (last bit coming).