The bf and I had spied on this brightly-lit restaurant at Bonifacio High Street called The Stock Market one night and decided to have a go at it.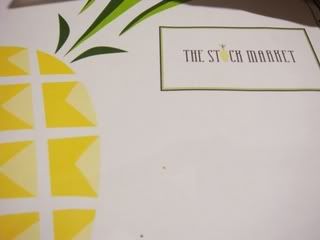 I quickly realised it was like going inside a mind obssessed with pineapples -- they were everwhere!

Tons of photos ahead, so don't say I didn't warn you!







Pineapples on the centrepiece.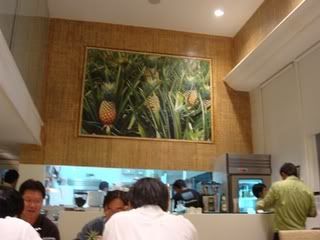 Pineapples on the wall.






Pineapples on the shelves.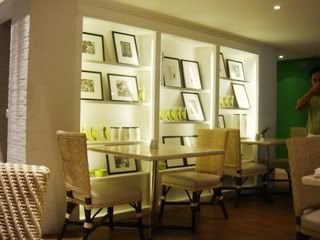 Heck, there were pineapples in picture frames on the shelves!


Then I found out why...




This restaurant is owned by Del Monte. Hehe!


Well, I didn't mind that there were so many pineapples. I was actually amused and thought that the restaurant ambience is so homey and felt like a luxurious version of my auntie's kitchen.






I NEVER skip trying a Ceasar's Salad at every new restaurant I go to. For some reason, I believe that if a restaurant can make a proper CS, then I would know that my food will be good. It's silly, I know! And just to confirm that with you, this one is excellent!






The Peach fizzy drink is refreshing -- highly recommended!







The Ravioli of Cream Cheese, Parmesan & Pine Nuts is so creamy and feels like it's melting inside your mouth. It could do with a bit more kick, though, I think.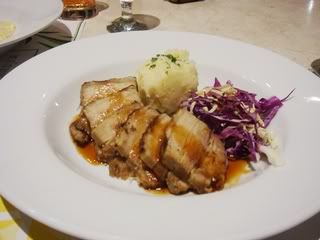 However, I think the Pulled Pork Barbecue is the star of the night. The meat was very tender and I nearly exchanged my Ravioli for it (but the bf wouldn't budge).


Wallet damage
Overall, the service and food were good but I'm a little disappointed to say that I feel eating here is overpriced. It will cost you at least Php 400 to eat at the Stock Market and I can think of many other places to spend that amount of money on a little plate of food.

Still curious? The Stock Market can be found along Bonifacio High Street at The Fort, right next to TGI Friday's.