Hi, my name is Emz and I'm a shopaholic.

There are two kinds of shopaholics. There's one who shops too frequently and one who shops compulsively. I belong to the latter.

I wasn't always this foolhardy with my money. It all started when I moved to the UK for a time. I was single, earning a reasonable amount, had virtually no friends and homesick (a very, very DANGEROUS combination of elements).

I had only ONE friend at the time and she taught me the ways of the obssessive shopper. I had a mentor, wouldjabelieveit???





Our motto is this:

If you find something you like, go home and sleep on it. If you can't sleep thinking about it, buy it the next day, or someone else could beat you to it and then you'll be bawling your eyes out.

I've never ever forgotten those words. It's rubbish advice,but somehow it has made its way to my subconscious and never left.

So now, when I know I want something and I know where to find it, I think about it all the time (To buy or not to buy?). I spy on it in the shops every chance I get. I daydream about it day AND night. I inject it into conversations even if they don't fit.

For things like clothes or shoes, this will only take a couple of days before I reach a decision. For more expensive stuff, the whole process will take weeks, even MONTHS before I take action. That may seem wise, but only on the outside. Because more often than not, I'm building a list of excuses to buy the darned thing. So by the time I've built up my list of excuses, I finally convince myself that I need the thing to function properly as a member of society.

So even if I save my money, I will find a way to get rid of all my savings in one go. There was a point when my uncle had cut up my Next store card because I had bought too much stuff with it. A store card is a kind of credit card that you can only use in a specific store. Stay away from them, they are eeeeevil!


And the fruits of this addiction-slash-obsession? Behold: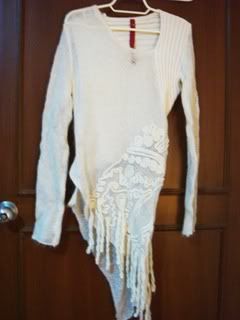 A £70 cardigan that I can only imagine wearing here in the tropics.







Shoes that have never left the bedroom since they arrived from the shops.






A netbook that I thought I needed. But now that I've got it, I don't get a chance to use it. Pfttt.

Clothes that don't really fit (because they were bought online).

A Php 39,600 bill on my credit card...

And a yet-to-be-built condo unit. (This purchase is the best example of my shopping instincts gone haywire, because I've decided on a whim. Whoop-diddle-dee-doo.)


I've been seeing the book "Confessions of a Shopaholic" scattered all over the bookstores long before this contest and was on the verge of buying it (if not for my towering credit card bill), because I'm curious if Rebecca Bloomwood fares better than I do. But as the film is being shown soon I might as well just skip the book and see the film first (my wallet will thank me for it).



Catch "Confessions of a Shopaholic" in cinemas on February 18, 2009!