I've been invited to a blogversary celebration last Saturday by Lena of Pinoy Mom Blogs. I was so flattered that I had beeninvited that you'd think the Queen had invited me for tea at the Buckingham Palace!

I was a little nervous about going because I don't know anybody there except Lena, who I've only seen so fleetingly and have never spoken to apart from blog comments. So this is quite a new thing for me. Guess I was in the mood to socialise?




It turned out to be quite a nice afternoon chat, actually. Only 2 others showed up, but was worth meeting Cherry & Mike (who had been taking photos using his T77 -- wut up!). I learned a thing or two about blogging from the conversations and I really enjoyed their company.
And with that, let me end this post with a meme!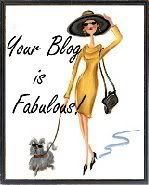 This Fabulous Blog Award had been given to me by DesperateBlogger and I'm absolutely chuffed!

As a condition for receiving it, though, I'm apparently required to pass it on and list down five of my addictions (do I really want to embarrass myself like this?).