I've been subjecting myself to a (strict) diet for the last several weeks, and I'm pleased to say that it's the first time something has worked for me.

I've been living on wheat bread (1 slice at a time ONLY), hardly any rice, crackers, a little meat, salads, fruits & unsweetened pineapple juice for 6 weeks now. It's a killer, I'm tellin' you. Of course, I take a break on weekends or when going out with friends during the week.

I've lost more than 8lbs so far. I'll keep going until I lose 20lbs, maybe.

I don't exercise yet. I can't be bothered to get up early to go to the gym because I love what little sleep I get (my friends know I have problems falling asleep).

However, I find that I struggle more during my PMS days. I feel hormonal -- down, moody and just plain bitchy (the urge to bite someone's head off is rather strong this week).

So I cheat on my diet with this: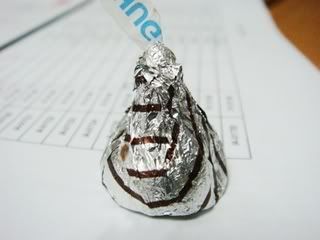 It's funny how just one Hershey's Hug a day lifts my spirits up. Chocolate is a God-send.